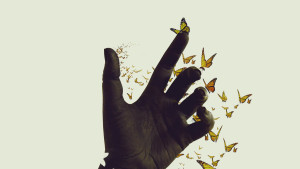 Have you ever found yourself doing something that you know you probably shouldn't? Ever struggled with a bad attitude? We have all fought with negative behaviors at one time or another. At times, we can be unaware of the problem. Or perhaps, we recognize the issue but are unwilling (or feel unable) to change. So we go on doing the same things over and over again. For those of us who come to the point where we actually want to change or want to improve, it can be a struggle to figure out where to start. Well, the Bible gives us a clear picture of what we need to do in order to change.
In Romans 12:2, Paul tells us that we must be "transformed." He doesn't tell us to be transformed by doing the exact same thing we have always done. He doesn't tell us to be transformed by blaming others for our troubles. Paul says that we are transformed by the renewing of our mind.
Our minds are a battleground. The world wants to have us pondering violence, unrestrained sexual pleasure, self-gratification and enmity towards others. But the Bible calls us to help the weak and downtrodden. That means we may have to change our attitudes toward the less fortunate. The Bible calls us to purity. That means that we have to reject and avoid sexually immoral images and themes.
Romans 12:2 is a key verse for the Christian walk and how we are to avoid being overly influenced by the world. But it goes on to remind us that a transformed mind prepares us to hear God and obey His will. A mind that casts off worldly influences is better able to embrace what is good, acceptable and perfect.
If you are stuck in constant quarrels or arguments, seek a transformed mind. If you are stuck in an endless cycle of bitterness and negativity, seek a transformed mind. If your outlook on life is bleak, seek a transformed mind. Jesus came to bring us life, not misery. Let us embrace Him and be transformed by Him.